The basics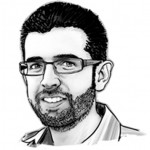 I'm John McGarvey, a freelance web copywriter and content strategist based in north London. I work with clients in London, across the UK and further afield, both from their offices and remotely.
My experience
I've been writing and creating content for the internet for more than 10 years. During that time I've helped many clients publish compelling content for business and consumer audiences.
A lot of my work has been for technology companies (including Microsoft and O2), so I'm particularly good at explaining complex products and concepts in simple terms.
If you're struggling to connect with your target audience, just give me a call. I'll inject some life and personality before you can say "conversion rates are up".
How I work
There are many ways to approach a content or copywriting project. But when you work with me, we'll start with a conversation so I can learn about your business, your customers and what you're trying to achieve.
On many projects — particularly new websites, apps and online forms — it's helpful for me to be involved early on. Content and design are closely linked, so when you get me in near the start then we can make sure the two fit together.
Although I'm used to doing the legwork, your input is vital. Your feedback helps me deliver work that achieves our objectives. And when we talk during a project, you'll gain confidence that things are going in the right direction.
Why me?
Writing for digital platforms like the web and mobile apps isn't the same as writing text that'll be used in print. For instance, people tend to read differently on screen, scanning text and skipping through looking for keywords.
Because I've worked online for my entire career, I have a clear understanding of how digital content works. And I can put that knowledge to work for your business.
The non-work stuff
When I'm not writing content for clients, trying to catch up on my bookkeeping or knocking out a killer blog post, you might find me tracking down interesting beers in London pubs and bars, watching some live music or planning a trip.