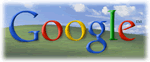 Around 5pm it usually feels like it's time for a rest. Today wasn't much of an exception.
I was trying to get to the Microsoft website and for some reason I typed www.google.co.uk/microsoft into my browser. I was surprised by what I saw.
I've hardly looked at it, but it appears to return search results relevant to Microsoft. There's a similar page for www.google.co.uk/linux. www.google.co.uk/mac gives you a "Search Mac Sites" box as well as some handy Google downloads for Apple.
Google: are you having a bit of fun or providing a useful service? I reckon it's a bit of both.