Download my plain English copywriting contract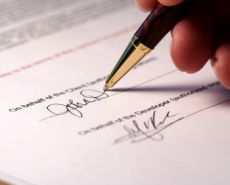 When I started out, I didn't have any kind of copywriting contract for my clients to sign. But after a few months of relying on informal, emailed proposals, I felt I needed something more official.
Yes, contracts are boring, dull, tedious and generally unenjoyable. But they are important.
They explain exactly what each party in a business relationship should expect – and what they have to do. They can also be invaluable if things ever go wrong, because it's harder to argue with something if it's written down in black and white.
Here's my copywriting contract for free

Most contracts I've encountered are written using lots of legalese and can be very confusing. I wanted mine to use plain language, so anyone could understand it. To get going, I needed some inspiration, so I hunted around and found Andy Clarke's excellent killer contract.
This seemed like a great starting point, so I grabbed it and made some pretty substantial changes. Andy offered his contract up to anyone who wanted to use it, and in the same spririt, I'm doing that too. So download my copywriting contract now. It's available in several file formats:
I received a lot of really helpful feedback while working on this. So thanks to Simon Wicks, Matt Telfer, Matthew Stibbe, Jim Anning and Martin Grocock.
What you need to know about my copywriting agreement
Feel free to download my copywriting agreement and use it however you like. All I ask is that if you republish it, you mention me and link back here.
You can change it any way you want. At the very least, you'll need to replace the bits in square brackets with your own details and decide how you want to handle cancellations.
Oh – and this is important: I'm not a legal professional, so get your legal eagles to examine it properly if you decide to use it.
More information about my copywriting agreement
I tailored this contract to address the following problems in particular, because they're things I've been concerned about when working with clients:
Scope creep. I usually work to a fixed price on projects and try to be flexible. Clients seem to prefer this – but I've been worried they'll see my flexibility as an invitation to change the brief midway through a project, creating lots of extra work for me.
Tardy payment. So far, I've been pretty lucky – most clients are super-speedy payers. But with no agreed payment schedule beyond the 30 days stated on my invoice, I've not been particularly well covered if I do hit problems.
Deadline drift. It's a real pain when you turn a job round fast only for the client take forever to decide on revisions. It makes scheduling jobs trickier – and it takes longer to get back up to speed if I've not worked on a project for a while.
These may or may not be things that concern you – and so you might want to add or remove bits from the contract before you use it.
Bad clients are still bad clients
I don't think even the best contract in the world can ever substitute for treating your clients properly, communicating with them effectively and doing each job to the best of your ability. And it would be a bit naïve to think a contract can protect you entirely from bad clients.
But what it can do is make your business relationships more official, provide a clear document to refer to in the event of any sort of disagreement – and give you a bit leverage if things go wrong. If you use mine, please, let me know how you get on.