New look for Google Reader
I use Google Reader. A lot. It's my main source of news and information through the day, and I find it's great for homing in on stories I'm interested from websites I like.
I logged in a few minutes ago and it's been redesigned. I haven't explored the new interface fully yet, but it looks cleaner. They don't seem to have added any themes (like they did with Gmail), but at first glance it looks good.
Judge for yourself with this screenshot. Click for full-size: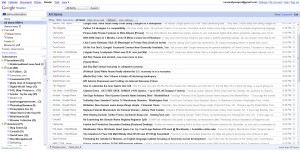 Do you rely on a good RSS Reader for news? Which is your favourite? Leave a comment and let me know.