Writer's review: Asus Eee 1005HA netbook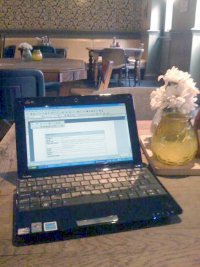 I work from home a lot. As anyone in this position will tell you, sometimes it really helps to escape to a café or bar.
The change of scenery's good, and with Wi-Fi it's certainly possible to get out and about and stay productive.
One problem for me though: although my main laptop does everything I need, it's pretty big, pretty heavy, and has a less-than-impressive battery life.
Working in the local café is no fun if your computer is too big for the table and there are three other people fighting for the same power outlet. So step forward my latest purchase: an Asus Eee 1005HA PC. It's a netbook – a cheap, cut-down portable computer.
At £300, this one was a little more expensive than average, but nowhere near as expensive as some. I did lots of research before arriving at the conclusion that it was right for me. Here's why I like it:
The battery life is astonishing. If I switch to power save mode I can get seven or more hours out of it.
Considering its size (tiny), the keyboard is excellent. I've been typing documents on it without any problems.
It's fast. Ok, so it's not going to give your main PC a run for its money. But it's more than adequate as a portable machine.
It's got Bluetooth, the latest Wi-Fi, a memory card reader and lots of USB connections. In short, I can plug most stuff into it.
It's small (of course). I barely notice it in my bag and the great battery life means I don't always have to lug the power supply around.
It looks pretty neat and manages to be sleek and stay functional. Asus do a lighter, more attractive model too, if that matters to you.
The downsides? Well, there are a few:
It came with lots of rubbish software on it. While this isn't unique to Asus, it uses up system resources and is a pain to remove.
The screen has a shiny coating. This reflects bright light and can be difficult to read. It hasn't been a nightmare. Yet.
The trackpad has a strange texture and the button is stiff. Both take some getting used to.
It has a stupid name. Who on earth thought calling it an Eee was a good idea? It sounds like a Yorkshireman's expression of mild surprise.
Overall, I'm really pleased – and convinced the impressive battery life and decent keyboard make this the right netbook for me. I'd highly recommend it if you're a writer looking for a capable, portable PC to make coffee shop working that bit easier. (Picture: my netbook in its natural environment.)