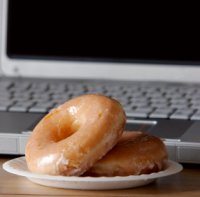 Remember this? Well, here's a quick heads-up for you: the IT Donut is now live. I've been working on this new small business advice website for a while now, and it's nice to have it out the door.
We're really pleased with how it's turned out, but like all the best websites, that's not to say it's finished, of course.
If you browse it at the moment (and please do check the site out), you'll see that the breadth of information is huge, but the depth is, well, still to come in some areas.
We're working hard to put that right – and if you know a bit about IT, you might be able to help us and the small businesses that use the site. So get in touch and I'll explain more.