Writing on the tube is food for thought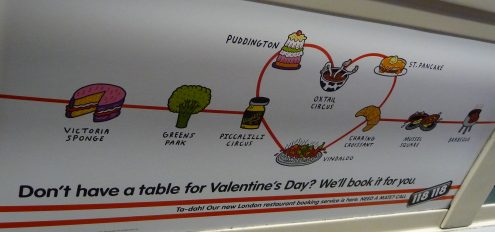 Directory enquiries service 118118.com has traditionally relied on hairy athletes, a reworking of the theme tune from Rocky and promotional stunts involving handing out "118" jogging vests for advertising.
However, this market is a crowded one, so maybe it's no surprise that as well as broadening its services to include restaurant reservations and cinema listings, 118118.com has started to try a new tack with its advertising.
I spotted the advert pictured above on the tube the other day. It made me chuckle when I saw it, and I think it works well for three reasons:
It fits the location. I saw this particular advert on the Bakerloo Line and it features a reimagined tube map. That's clearly not a coincidence.
It's bang on for an audience of Londoners. Seeing the renamed station Piccalilli Circus will surely raise a smile, even on the humourless tube.
It keeps the elements of whimsy and fun that are so crucial to the brand. Ever since those joggers, 118118 has tried to have fun.
As an effort to wrestle market share away from the other 118-alikes, I think this is a good attempt. Have any adverts caught your eye lately?