Writer's review: Toshiba NB200 netbook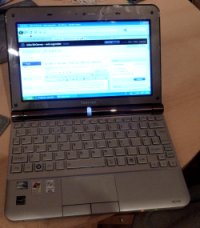 I had a bit of an accident with my last netbook. After flogging it on eBay then doing heaps of research, I settled on the Toshiba NB200-10Z as a replacement.
I've been using it for a couple of weeks now. Here's what I think.
Styling and design
Several reviews of the NB200 slate how it looks. But actually, with its silver keyboard and brown lid, I quite like it. Maybe that says more about my tastes than anything else.
It's certainly well put together – if a little plasticky – and I like that it's uniformly thick, rather than wedge-shaped. The screen pushes back a good way too, giving you a bit more flexibility in where you work.
On the downside, the high capacity battery sticks out and looks like an afterthought. It's not particularly neat, but hardly the end of the world.
Performance
Most netbooks have similar specifications, so there's often not a great deal between them performance-wise. The NB200 runs Windows XP well and it's got enough grunt for me to work on documents and get online. As a writer, that's all I really need.
The battery life is worth noting. I'm reckoning eight or more hours from a single charge – certainly up there with the Asus I had previously, if maybe not quite as good.
Screen and keyboard
Because I use my netbook to write when I'm out and about, the keyboard is make-or-break for me. And the NB200's is good.
It's a "chiclet" keyboard: the edges of the keys are set apart like on a Macbook. This doesn't make any difference to ease of typing and while the keys feel a touch spongy it's easy to hit the right ones and not uncomfortable to use. Top marks for including separate page up and down keys too.
The screen has a different tinge to the Asus I had before. Frankly, I don't think it's as good. You have to knock the brightness back a bit to get a true-ish black and it has a silly reflective coating that I just know is going to be a pain on a sunny day.
Other stuff
This netbook is the worst computer I've ever encountered for coming with copious pre-installed crap. In a fit of annoyance, I started randomly uninstalling stuff after turning it on for the first time. I deleted something I shouldn't have and the Wi-Fi stopped working. Don't make that mistake.
On the plus side, the NB200 has all the connections you'd expect: USB, memory card slot, etc. You can even charge your iPod (or similar) from one of the USB sockets when the netbook is switched off.
Overall, I'm really pleased. The design and execution of this netbook is a bit different to the Asus I had before, but the result is similar: it's an excellent computer. I'd better try and take better care of this one.