How to find cheap flights – a beginner's guide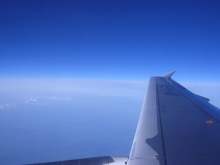 I'm not exactly a frequent flier. But I'm occasionally on the look out for good value flights to various places – usually for a holiday or short break.
It seems to me that booking flights is one thing the internet manages to be simultaneously really good at and really bad at.
On the up side, there are loads of places to go to find deals. There are thousands of web pages offering tips and advice. But on the other hand, there are so many sites selling flights and so much information that it's virtually impossible to be certain you're getting the best deal. It's enough to send you running to the nearest branch of Thomas Cook.
I spent a lot of time last week trying to track down some good value flights, and wrestling with all the different travel sites out there. So I thought I'd explain how I found a decent deal.
There are only three steps, but I reckon they work best if your travel dates are fixed. They strike a good balance between finding a great price and not driving yourself mad hunting down the absolute cheapest deal:
Find which carriers fly the route you want and get a feel for what constitutes a good price.

This bit's easy: search for flights on Kayak and Skyscanner. These are two of the most comprehensive flight search engines out there. They do a great job of searching thousands of flights across lots of different agents and airlines.

Skyscanner is best for short-haul flights with budget airlines. It won't always return flights with traditional carriers like BA, but it does normally tell you who else flies the route you're interested in.

If you find a price you're interested in on SkyScanner, always check the text which says how old the quote is. If it's more than a few hours old then make sure you hit the Check now button to see if the price is still accurate.

Kayak does the lot. Long-haul, short-haul – and it searches airline sites directly and other agents like eBookers and Expedia. It can take a while to perform a full search, but the prices it returns generally seem to be very accurate. If you use it in conjunction with Skyscanner, you should have a pretty exhaustive idea of which airlines fly where you need to go.

I've found Kayak's prices pretty much 100% accurate so far, but its links out to the companies actually selling the flights don't always seem to work. No matter – we're just trawling for a ball-park figure anyway.

At this stage, try and narrow your search a bit. Come up with four or five options based on price, flight times and your preferred airlines (if you have any).

Start digging deeper. Search for your preferred flights across all the main online travel websites.

To kick off, try Expedia. It's the bees knees when it comes to online travel and can show you hotels, tours and all sorts. But to keep it simple, just use the flight search. Note the options to select preferred airlines, times and whether you want to fly direct or not. These can help you home in on your preferred flights quickly

You should also try Opodo, eBookers and Travelocity. Then there's Travel Supermarket, Flight Centre and STA Travel (STA aren't just for students, though if you are a student, they're probably the very first place to look).

Yes, Kayak has already checked most of these sites for you, but it doesn't always seem to pull out the best deal of all. Cheapflights is a website that always comes up in Google searches, but don't bother unless your dates are flexible.

Hitting those sites might take a little while, but afterwards you should absolutely know who's cheapest. Now go to the airline's own website and check the price there. It's unlikely to be better than you've seen already, but occasionally you'll bag a bargain.

Check for further discounts.

The main online travel sites are usually running promotions of one sort of another. They often take the form of voucher codes you can enter to claim a further discount on the price of your flights.

Although a Google search (e.g. 'Expedia voucher code') will usually prove fruitful, I reckon the place to start is HotUKDeals. This community website highlights great deals and discounts – just type the name of the company selling the flight you're after into the Find a Voucher box. If any vouchers are available, you should see them. This simple step netted me £50 off a holiday I booked last week, so it's well worth bothering with.

And for a final bonus, you can usually pick up cashback on your purchase. Sites like Quidco have commission deals with websites like Expedia. But instead of hanging onto all the commission themselves, they'll pay most of it back to you. Often it's quite a significant amount. Quidco got me £50 back on a laptop last year and £12 on my house insurance, so it really is woth looking at.

(Incidentally, Quidco and HotUKDeals were founded by the same chap. I guess some people just have an eye for a bargain.)

If you do use Quidco, make sure you clear all cookies from your browser before signing into the site. That maximises the chance of the cashback actually registering properly.
And that's it: find out who flies where you want to go; check the main sites; and search for discounts and vouchers. Then spend whatever you saved on a nice hotel or something. After all, you are going on holiday.
What have I missed? Where do you find cheap flights? Leave a comment and let me know.