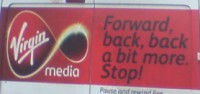 I've spotted a few Virgin Media vans about with a slogan that's tempting fate. 'Forward, back, back a bit more, stop!' just seems to be inviting a parking mishap.
And it's surely only a matter of time before we see a van with 'near miss' on the side stuffed into a hedge or something. (See a picture of the whole van here.)
Still, I like the copy. It has a nice sense of playfulness and made me smile the first time I saw it. And I suppose if one of these vans did have a coming together with another vehicle, the inevitable photo in the Metro the next day would at least be exposure of sorts for the company.