The strangest small ad ever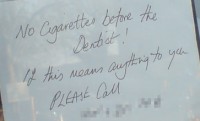 I've been running through the photos on my cameraphone this evening and as well as an exciting shot of a Virgin Media van, I found this classic. It's a small ad – I spotted it in a newsagent's window in West Drayton the other day:
'No cigarettes before the Dentist! If this means anything to you, PLEASE call…'
What on earth is that all about? I was half-tempted to call the number, but commonsense prevailed and I haven't dared.
It doesn't have much to do with copywriting I know, but did get me scratching my head…
Any suggestions?