Sometimes it's best to call a spade a spade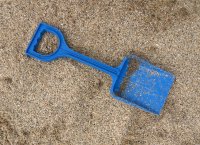 What's with the rash of everyday things being renamed in complicated ways?
First up is Pizza Hut. For years, this chain has been synonymous with pizza, salad bars and, if you're a kid, their ice cream factory, which lets you keep returning to eat more ice-cream until you're actually sick.
But what's this? They don't seem to have a salad bar anymore. For 2009, they appear to have renamed it the Salad Station. As their website explains:
"Grab a bowl & help yourself. Check out our all-new Salad Station, and get creative with new ingredients, dressings, drizzles and toppings."
Umm, sounds a little bit like a good old salad bar to me. So what's with the name change?
Ready what?
Next is that rather well-known US chain of coffee shops: Starbucks. As you might have seen, they recently launched a brand of instant coffee called VIA.
No, I don't know why they've capitalised the name. And I also don't know why they've decided to call it 'ready brew' instead of instant coffee.
Check it out for yourself. The instructions for making it are: "1 Pour in packet. 2. Add hot water. 3. Stir and enjoy."
In short, this coffee works in just the same way as every other instant coffee you've ever seen, bought or drunk. But they've decided to call it ready brew, even though it's as instant as coffees come.
I suppose this sort of behaviour should be expected from a brand which has tall, grande and venti instead of the more usual small, medium and large. But I don't think it's a good thing.
It's about being different
When companies start using new names for things that already exist, it's because they want to make themselves look different.
Starbucks wants you to think its instant coffee is unlike any other instant coffee. And Pizza Hut wants you to think of its salad bar as something new, rather than pretty much the same thing it's been doing for years, albeit with a few new ingredients.
This isn't a new trick, and these aren't the only brands guilty of it. But I don't think it's a particularly clever thing to do – unless your product really is something revolutionary.
It's a bad idea for two reasons:
It makes people cynical
People aren't stupid. So giving a new name to an old idea won't fool them. It just increases cynicism – so when something comes along that is genuinely revolutionary, they're less likely to believe it.
It reduces clarity
Calling instant coffee 'ready brew' just confuses things. I associate the word 'brew' with proper, ground coffee, or with tea. But definitely not with instant coffee. That's already got a name, so please use it.
(For the record, I haven't tried VIA or the Salad Station. It's possible they're both landmark inventions. But I seriously doubt it.)
What's your view? Encountered any examples of this sort of thing lately? Maybe you think it actually works, and does help to reinvigorate a company's brand. Leave a comment and let me know.