Every piece of text makes a difference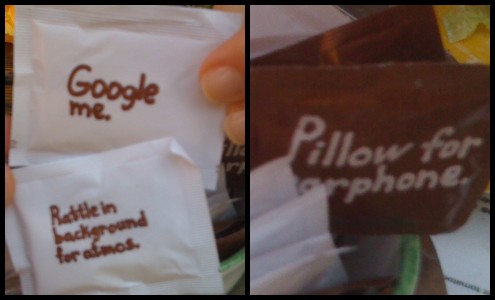 Don't they say it's the little things that count? Well, nothing makes me smile more than spotting some text that someone's really taken time and care over – despite it being displayed in a seemingly unimportant or innocuous location (ok, actually some things do make me smile more, but bear with me here).
Take these sugar packets I spotted at a cafe in Oxford. Ropey pictures aside, aren't they delightful?
It's hard to argue that text on the back of a sachet constitutes a vital part of a company's branding. And yet it's equally hard to deny the effect it has: when customers notice their sugar packet says "rattle in background for atmos" on the back,  it helps set that particular cafe apart from the countless others that line Oxford's touristy streets.
The lesson here? Small things matter too. A piece of well-placed text can make your brand stand out in people's minds. I know where I'll head for lunch next time I'm in Oxford.