Hubble, bubble, chocolate trouble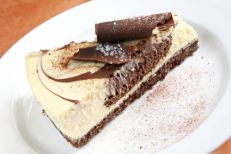 I had dinner in a Giraffe restaurant the other night. You know the places: friendly staff, reasonable food, good value – and plenty of two-for-one vouchers available online.
In fact, their whole website is pretty decent, and they understand how to use Twitter too.
Anyway, towards the end of the evening I did the usual um-and-er over dessert thing, until spotting the cheesecake on the menu. Had it just been "chocolate cheesecake", I might have declined. But "milky double bubble chocolate cheesecake"? How could I say no?
That's the power of good copywriting.