Porn, pharmacies and phone sex. Who's using the photos on your website?
It's never been easier to find photos for your website. Pile-'em-high-sell-'em-cheap stock photography companies like iStockPhoto, Shutterstock and Fotolia allow you to purchase photos for as little as a pound or two.
These sites have drastically cut the cost of getting hold of images without worrying about copyright issues. I use them, so I should know. But there's one big problem: when you pay so little, you don't get any control over who else uses the photos.
Those images are sold again and again and again. Some of them are exceptionally popular – and that can spell embarrassment for your website.
I've trawled iStockPhoto – one of the biggest stock imagery sites – to bring you these five examples of stock photography that's been rather, well, overexposed. If you're looking for images to illustrate your website, steer well clear of these.
From web hosting to chief marketing officer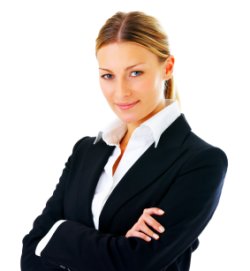 Plenty of websites seem to like the look of this lady. When she's not urging you to "get more now" over at Midphase Hosting, she's also putting in an appearance at Data102, a Colorado Springs hosting centre.
Then there's marketing. She's been standing in as a chief marketing officer for Brand Week – and been involved in this article about self branding. Busy lady.
A tired metaphor for growth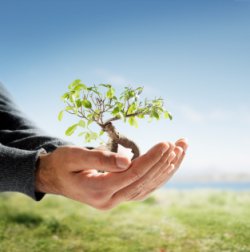 If you're growing a business, here's one visual metaphor you might want to steer clear of. It's a very well-trodden path, you see. It might have been Clydesdale Ventures that first used this image. Or maybe it was Ian Brodie. Or Accelerate Media.
In hard copy, the books Recession Thriving and Trading Pain for Peace both have strikingly similar covers. Those green shoots of recovery are certainly spreading.
From pornography to the pharmacy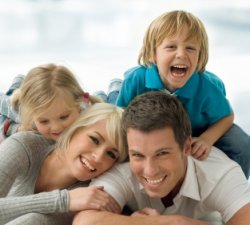 It's amazing how many uses a single picture of a generic, photogenic family can be put to. Protecting families from pornography? Check. Life insurance? Check. Carpet cleaning in Naperville? Check.
Oh, and don't forget to register for your free pharmacy card, will you? As for what this poster is advertising, I have absolutely no idea. It does use a tasteful monochrome version though.
Our call centre staff are all very attractive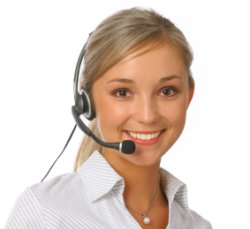 Need to illustrate your company's contact details? Look no further – this multi-skilled lady should be all you need.
She knows all about spectacles (top left corner of the page), going on a cruise, sorting out your computer's performance, running an online backup service and, er, making a bit of cash as a phone sex operator (don't worry, that last link isn't dodgy). I'm no expert, but I'd have thought one of those occupations would be much more lucrative than the others.
Are you saving enough?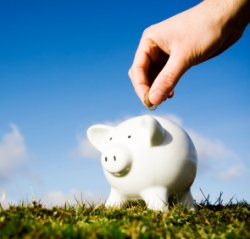 A piggy bank. What better way to illustrate a story about the credit crunch / recession / money / banking / savings (delete as appropriate)? If you use this particular image, you're certainly in good company.
Once you've read Virgin Media's guide to being frugal you can head on over and get a bargain weekend break. Back from your hols? Then you'll be ready to start saving for the next one. Given the number of times it's been used, the photographer behind this image probably isn't short of a few quid.
Avoid the trap
Ok, so you're using stock photography for one good reason: it's cheap and it does the job. (That's two reasons? Never mind.) There are three main ways to steer clear of overused images:
Check the download stats. Most stock photography sites give you some idea of how many times each image has been downloaded. If an image has thousands of downloads, there's a fair chance it's been used thousands of times too.
Do a quick search. There's a totally amazing reverse image search tool called TinEye which helped me with this blog post. Give it an image and it'll show you other websites using it. If there are lots of results, you might want to choose another picture.
Stop being clichéd. The piggy bank. The lady wearing the headset. The growing plant. Images like these have been used to illustrate the same subjects many times before. So get creative and think up some less predictable ideas.
Finally, I'd always advocate that it's worth spending money to get really top-notch text for your website. If so, you might want to look into paying a bit more for some unique, quality photographs too.
What do you think about cheap stock photography? Ever had any embarrassing moments using it? Leave a comment and let me know.
(All images bought from iStockPhoto. Naturally.)