If you're looking for a decent, free image editing tool, but don't need the expense of Photoshop or the complexity of GIMP, I can highly recommend Paint.NET.
However, if you plan on downloading this free software, stay sharp when you're on the Paint.NET website. Because the link to download isn't quite as obvious as it seems: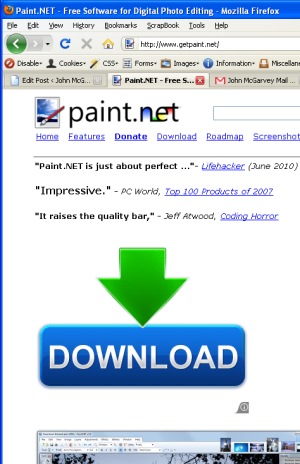 That big 'DOWNLOAD' button with the huge green arrow that drags your eyes in and won't let go? That's not it.
It is, in fact, an advert. It takes you to www.searchale.com, a site offering 'the ultimate search tool' – as far as I can tell, a toolbar you can download and use in your web browser.
I can't find much other information about the company, apart from this complaint from someone who had the ad appear unexpectedly on their own website. So my advice would be to steer clear.
Oh, the actual download link? It's up the top there, just beneath the logo:

It's not hard to see how SearchAle benefits from this advertising. I'm sure there are more people using its toolbar then there would have been otherwise.
I just wonder how many of those people actually wanted it, or even understood what they were downloading.